Are you looking to improve your Hebrew using social media? A quick dose of Hebrew when you open up Instagram will help you in your exposure method to the language. We found these five Instagram accounts to upload consistent and in-depth content that will supplement your Hebrew learning experience.
#1 SpeakWith Ofir
Follow: @speakwith_
Speak with Ofir posts regular content on the Hebrew language for English speakers. Aside from eye-capturing posts, her posts are also very informative and easy to digest. You can also learn Hebrew with her online course.
#2 Thekefar
T'helah is a Hebrew teacher who provides FREE Hebrew lessons her YouTube channel and Instagram account. Aside from helping beginners familiarize herself with the language, she offers online courses to strengthen her students' understanding of the language. Great for beginners, and intermediates looking to improve their skills.
Follow: @thekefar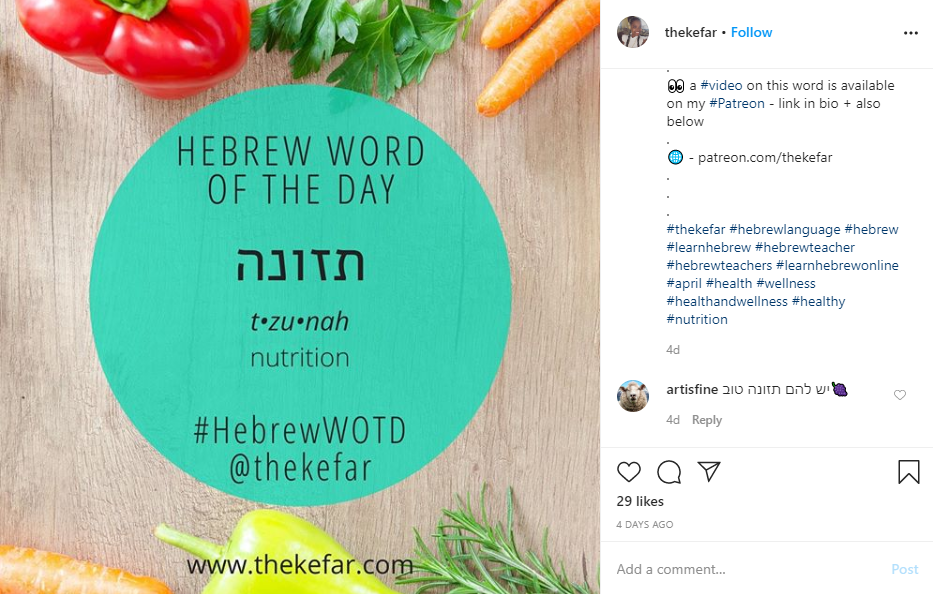 #3 Razzi_Raz
Aside from the good looking food he uploads, Razzi uploads regular Hebrew learning content which is great for beginners. His videos focus on simple vocabulary which is great if you're just starting out.
Follow: @razzi_raz
#4 Hebrew for Beginners
Hebrew For Beginners is an online brand that offers BOTH Modern Hebrew and Biblical Hebrew lessons for beginners. So whether you're looking to speak Hebrew with Israelis, or further your Judaic studies, be sure to check out Hebrew for Beginner's site, and Instagram!
Follow: @hebrewforbeginners
#5 My Hebrew Learning
Are you looking for an account that will help you with Biblical Hebrew? We found @MyHebrewLearning to have engaging content with consistent style, and very informative posts!
Follow: @MyHebrewLearning
Are You Looking to Purchase the Best Hebrew Learning Books?
If you're ready to learn the Hebrew language, we've compiled a list of the 7 best books for Hebrew learners to purchase. These textbooks focus on Modern Hebrew and are sure to accelerate your learning process!
Follow us on Instagram: @kojiilanguages
Email: kojiilang@gmail.com