Are you looking to improve your Hebrew? In our previous article about Hebrew reading practice we discussed how practice is important for learning how to read Hebrew, but it's the most important factor in any skill. By the way, we're talking about Modern Hebrew, sorry Biblical Hebrew learners :/
Do Books Really Help People Learn a Language?
Short answer, yes. Long answer, it depends on what type of learner you are and what your goals are. A book or textbook is a great way to improve your understand of a language. However, it is by no means the only way you should be learning a language. Listening, and speaking are essential to improve your language comprehension, but a good textbook will guide you to your goals in an organized fashion.
This is because most (good) textbooks have been proof read, and have had hours of thought and effort put behind them. You can go from not knowing the alphabet, to being able to understand short stories and basic grammar rules.
#1 Colloquial Hebrew (Beginner & Intermediate)
I have always been a fan of the colloquial series. Whenever I begin studying a language I always look for a Colloquial (Routledge) branded textbook. They are super helpful and their audio is almost always available for FREE online. You get 425 pages of excellent content, with short conversations accompanied by clear and concise audio. At the end of each conversation is a breakdown of vocabulary, and grammar which I have always LOVED since the explanations actually make sense.
Purchase Colloquial Hebrew on Amazon
#2 Living Language Hebrew -Complete Edition (Beginner & Intermediate)
When I began my journey learning Hebrew this was the second book I purchased and to be completely honest, it's one of my favorite textbooks for any language. Living Language does a great job with this series. If you're serious about studying Hebrew and want to go from beginner to advanced (time duration has a lot of variables) in a structured fashion, I HIGHLY recommend this book.
Beginner, Intermediate, Advanced course work
9 audio tapes with clear and understandable Hebrew dialogue
Writing and reading practice with and without the niqqudot (vowel system)
SUPER affordable ($36.38 on Amazon)
Living Language Hebrew (complete) Amazon link
#3 Barron's 501 Hebrew Verbs (All levels)
Once you've become familiar with reading and writing basic Hebrew, and know a few words, it's time to expand your vocab with verbs. Just like any language, learning how to conjugate verbs is critical yet often very challenging. With Barron's 501 Hebrew Verbs, you can get the conjugation (with the niqqudot system) for 501 common verbs. It's also $15.99!! (with Amazon Prime)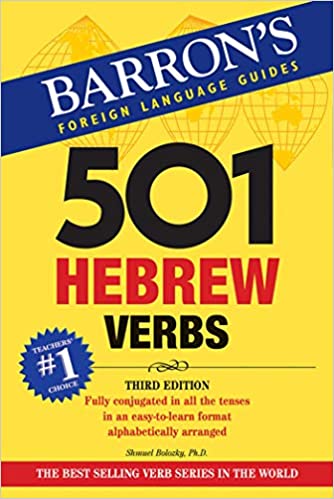 #4 FSI Hebrew Course (Upper Beginner & Intermediate)
The FSI or Foreign Service Institute, is responsible for training U.S. foreign affairs employees (e.g., overseas diplomats). In order to train these agents in a foreign language they have developed intense courses to rapidly increase efficiency in language learning. You can actually find a FREE version of the course on Live Lingua. The version listed here is from 1965, a bit dated when you listen to the audio, but still incredibly helpful if you want to accelerate your language learning quickly. This book is best accompanied by a language tutor or teacher.
It should be noted, this course is not for everyone. There are no pretty images, and color coded works, but it will do wonders if you're a serious language learner.
#5 Teach Yourself Modern Hebrew – 2004 Edition (Upper Beginner / Lower Intermediate)
Teach Yourself is another fantastic language learning brand I swear by. Although I will have to say, in my opinion their older series was much better at pure language learning. If you just want study material and something that will rapidly help you UNDERSTAND and LEARN the language I highly recommend the 2004 edition.
356 pages of great content
Begins with English script and switches to Hebrew script ONLY
Great for those who want a supplement to their language learning
$5 (pretty much a no brainer)
Teach Yourself Hebrew 2004 Edition Amazon Link
#6 Modern Hebrew: An Essential Grammar (Intermediate)
A complete and compact Routledge product with in-depth grammar explanations of the Hebrew language. Each chapter goes into great detail each grammatical concept, with great examples.
Good for those who know the basics of the language
Best supplemented with a tutor or teacher
372 pages with beginner and advanced grammar concepts
Niqqudot (Hebrew vowels) Friendly (great for those who can already read some Hebrew)
$52.54 as of 4/11/2020 on Amazon Prime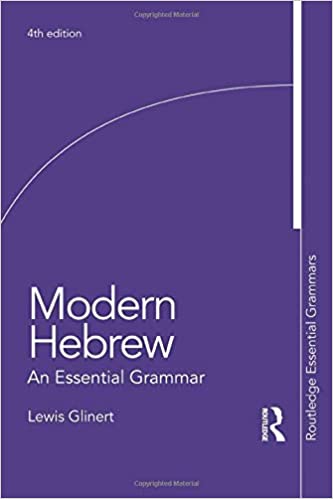 #7 Frog and Toad All Year in Hebrew (Upper Beginner / Intermediate)
So if you're looking to get real reading practice, then reading children's books in Hebrew will definitely boost your understanding of the language! Frog and Toad is already a great series, and reading it in Hebrew will surely be both challenging and fun.
Frog and Todd Hebrew Amazon Link
Looking to Improve Your Hebrew in Just a Few Minutes?
We've created a blog on the top 5 Instagram Accounts to Improve Your Hebrew, each account offers in-depth content that is sure to advance your learning progress.
Ready to Learn Hebrew With a Course?
If you're ready to learn Hebrew with an online course, especially with COVID-19 forcing many of us to stay home, we highly recommend signing up with Integraliah. They offer online Hebrew lessons for all levels at affordable rates! You can also check out their Instagram and view the content they produce by following @integraliah
About KOJII Languages
KOJII is a brand designed to promote minority languages, collect data on: bilinguals, language enthusiasts, and polyglots., and to innovate, using this data, the way we learn language
Business Email: kojiilang@gmail.com
Follow us on Instagram: @kojiilanguages