Learning the Pashto language can be quite challenging for those who are interested to master it since the language is difficult to learn for native English speakers. Additionally, it has a unique set of grammar rules and sentence structures different from English, not to mention the lack of available resources makes it even harder to study it. Feeling discouraged? Don't be! In this post, we have gathered 6 interesting books you need to buy this year so you can learn the Pashto language with no trouble.
#1 Introduction to Pushtu: An Official Language of Afghanistan
This book is a great read for students who would like to understand how the Pushto language is being spoken by native speakers. It provides English speakers who want to learn the language some Pushtu terms which are presented in both Pushtu and Roman scripts.
The book includes reading and writing exercises that show you how to read the language in a clear and concise manner by using syntax, parts of speech, common idiomatic sentences, regular and irregular verbs. It provides you with many example phrases and sentences as well as English-Pushtu and Pushtu translation practice materials.
It teaches you how to speak conversational Pashto and how to write in Pashto since the book includes the Pashto alphabet. It is a highly recommended book by the language community to learn Pashto in no time.
Introduction to Pashtu – Amazon Link
#2 Pashto: An Elementary Textbook, volumes 1 and 2
It's a comprehensive textbook that comes in two volumes: volume 1 covers beginning-level language instruction that includes the Pashto alphabet, writing, reading, pronunciation, greetings, and introductions. Volume 2 is more focused on discussions about the different seasons and weather, holidays, health, food, sport, and shopping. Interestingly, the book uses full-color photographs that are engaging and more appealing for visual learners who have a short attention span.
It has a wide selection of task-oriented, communicative language materials to aid in the progress of learning the language. It promotes a practical approach to grammar since it focuses on developing blended skills by using actual materials. This book is ideal for students as it allows them to enhance their skills in listening, reading, and writing. It is useful for instructors as well since copies of exams extracted from the textbook are available free of charge with teaching materials for the Arabic-based Pashto alphabet. The book also includes audio and video materials to effectively enhance the interest in learning the language.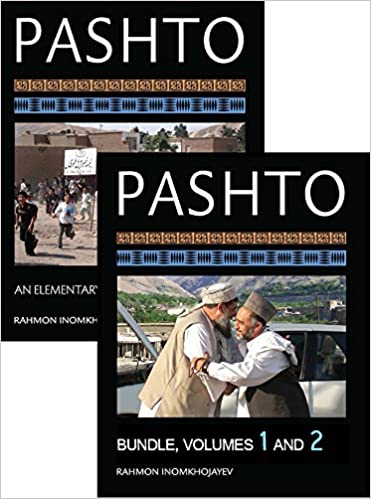 Pashto: An Elementary Text Book (Vol 1 & 2) – Amazon Link
#3 Pashto: An Intermediate Textbook
Once you're done with the Elementary textbook, you're now ready to browse this intermediate-level textbook that offers you a basic knowledge of the Pashto language with a subject-based approach that you can apply. It helps you develop strong speaking, listening, reading, and writing skills useful for everyday life, in official communications, the mass media, and the educational system of Afghanistan.
This book is an essential resource tool for professionals and students who wish to improve their proficiency in this critical language since it uses current methods in foreign language teaching. You can learn the language within its cultural context since it will provide you with practical situations and detailed descriptions of the Pashtun code of honor and wedding customs. Moreover, you can quickly master the essential function of the structural elements used in the texts by using grammar pointers. The textbook comes with a CD-ROM that features more than a hundred audio files that you can practice and it provides you with a vocabulary list that allows you to focus on a written word or phrase and listen to both eastern and western dialects.
Pashto: An Intermediate Textbook – Amazon Link
#4 Word-to-Word Bilingual Dictionary: Pashto Edition
If you already had a prior background in the Pashto language and you just want to broaden your vocabulary, you can use Word-to-Word Bilingual Dictionary: Pashto Edition as your reference. This Word to Word series is a bilingual dictionary approved for state testing. If you have diverse cultural backgrounds, this dictionary is ideal for you since it allows you to use it as resource material as it sticks to the strict guidelines set by districts and states.
Word to Word Bilingual Dictionary: Pashto Edition – Amazon Link
#5 Pashto-English/English-Pashto Dictionary & Phrasebook
If you're planning to travel in remote Pashto-speaking regions, this book is a useful tool for communication. It's a bilingual dictionary ideal for native English speakers since the Pashto language is romanized for easy, non-native speaker's reading and it includes the basic Pashto grammar and some nice to know practical cultural information. It's a good start as a translation and phrasebook.
Pashto-English/English-Pashto Dictionary & Phrasebook – Amazon Link
#6 BONUS – The Lion Who Saw Himself in the Water: English-Pashto Edition
What's the best way to learn the Pashto language? Read Pashto children's books. The Lion who saw himself in the water will help you boost your understanding of the language. The story was originally told by a Sufi poet named Jalaluddin Rumi in the 13th century and a series of stories are created to promote challenge and fun.