Looking to learn about African American Vernacular English (AAVE) aka "Black English" or "Ebonics"? Below are some of the best books you can purchase in order to familiarize yourself with the history, structure, and usage of African American Vernacular English.
Some of these books are linguistic overviews, others are stories written in AAVE.
1. Talking Back, Talking Black: Truth's About America's Lingua Franca
Written by the black linguist, John McWhorter an American linguist from Philadelphia, the book dives into the case of making AAVE or Black English more accepted in American culture. The book goes into detail about the grammatical and syntax structure of AAVE and showing how it is a proper dialect just like Standard American English (SAE) is. Some critics of the book argue that it is too repetitive, but overall the majority of people give it an average of 4/5 stars making it a good candidate for this list.
2. African American Vernacular English: Features, Evolution, Educational Implications
Written by linguist professor John R. Rickford, the book "African American Vernacular English: Features, Evolution, Educational Implications" covers just about everything when it comes to AAVE's linguistic features. Written as a compilation of essays the book goes in-depth to describe the differences between Ebonics and AAVE. Though the two are often used synonymously, Rickford insists that there is difference between the two. The book answers many tough questions such as "what are the features of AAVE/ebonics and how is it used?" and "what is AAVE's evolution and where is it headed?" This book is great for those who have either preexisting knowledge in linguistics, or those who are simply looking to expand their horizons on black culture in America.
3. Introduction To Ebonics: The Relexification of African Grammar With English and Other Indo-European Words
Written by Linda R. Taylor, the book goes deep into not only the linguistic differences between AAVE and Standard American English/Euro-American English, but also into the differences in thought patterns. The first volume covers the basis of AAVE being a potential 'neo-African' language. This book is great for anyone interested in AAVE and who wants a comprehensive list of words that are similar and different from Standard American English.
4. Ebonics: The Urban Educational Debate (2) (New Perspectives on Language and Education)
Written by David J. Ramirez and edited by several others, this book is a must-have for serious learners of AAVE. This book covers not only what AAVE is but also what it isn't. The book is primarily aimed at answering major educational issues such as the legitamecy of AAVE's use in the standard classroom. This book is not recommended for those who want a simple overview of the linguistics, but for those who are serious about learning not only about the language structure but the controversy in public education surrounding the dialect.
5. Beyond Ebonics: Linguistic Pride and Racial Prejudice
Written in first person by African-American linguist John Baugh, this book provides a simpler summary of the above-mentioned book. The book not only covers the linguistic facets of AAVE, but also the controversy surrounding it through America. Beyond Ebonics also debunks many myths surrounding the legitimacy of this dialect. This book is perfect for students of linguistics, African-American studies, and education.
6. Their Eyes Were Watching God
Written by African-American anthropologist, and writer Zora Neale Hurston, this book is a must-have for those interested in not just the language structure of AAVE, but to those who are serious about immersing themselves in African American culture. Some may criticize the way the book is written, in the Southern twang of AAVE, but to those who okay and excited for a more immersive book then this is the one for you.
Here's a plot summary from Sparknotes:
Janie Crawford, an attractive, confident, middle-aged Black woman, returns to Eatonville, Florida, after a long absence. The Black townspeople gossip about her and speculate about where she has been and what has happened to her young husband, Tea Cake. They take her confidence as aloofness, but Janie's friend Pheoby Watson sticks up for her. Pheoby visits her to find out what has happened. Their conversation frames the story that Janie relates.
7. Sing to the Stars
While many people many serious language and cultural enthusiasts may prefer heftier books, Sing to the Stars is a great book for someone to read in a day or two. Consisting of roughly 32 pages the book's illustrations and text provides a detailed insight into the lives of a violin student who passes by a blind man named Mr. Washington who recognizes not only the student but the song he is playing. This book isn't a novel, but it's a great starting place for those who are looking to immerse themselves in AAVE vocabulary and maybe pass that information to their children.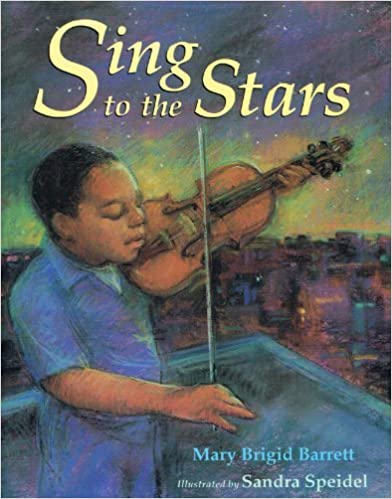 8. Push: A Novel
This book, or novel, highlights the life of a teenage girl going through extreme difficulties with her father raping her and her mother who dismisses her. The protagonist, Precious Jones, learns to take control of her life and put it into words. The book is written in the AAVE tongue and sharply puts into words the difficulties of urban life. This is a most have for AAVE enthusiasts and those who enjoy a good fiction (urban) story.
9. The Color Purple: A Novel
This novel highlights the experiences of two sisters who are separated but keep in touch via letters. The first letters are towards God then towards each other during the early 1900s in rural Georgia. This book is a great work of fiction that anyone who enjoys a good novel or story should purchase. With an average of 4.7 stars as of 2021 and over 7,000+ reviews the writing style is sure to be a memorable one for you.
10. She Come Bringing Me That Little Baby
Once again written in the AAVE style, this book covers the story of a boy named Kevin who hopes for a little brother but instead is greeted with a little sister instead. After feeling ignored and upset, he realizes the importance of being an older brother. This book is great for not only those who are interested in AAVE, but also for those who are adjusting to the idea of being an older sibling.
Support KOJII Languages
KOJII Languages is designed to spread the linguistic and cultural facets of less known languages across the world. Founded in 2019 by Joshua Conrad-Tanakh and his company JCSURGE, KOJII Languages aims to provide a comprehensive digest program for as many lesser-known languages as possible by providing a unique approach to teaching known as 'infotainment' in a semi-formal and informal tone. Please consider sharing our articles, and following us on social media.